Waffles for dinner – or lunch, for that matter? Yes please! I had these waffles for both lunch AND dinner today. They are spinach waffles topped with fresh tomato salsa, pulled chicken, coriander, fresh lime juice and pomegranate seeds. Healthy, fresh and so good! It doesn't make it worse that it's actually quite easy to make as well. 
Vafler til aftensmad – eller frokost? Ja tak! Jeg har i dag spist de her vafler til både frokost OG aftensmad. De smukke grønne vafler er med spinat, toppet med frisk tomatsalsa, pulled chicken, koriander, lime og granatæble. Det er lækkert, friskt og sundt – og det smager vildt godt. Det gør det desuden ikke værre, at det faktisk er ret nemt at lave.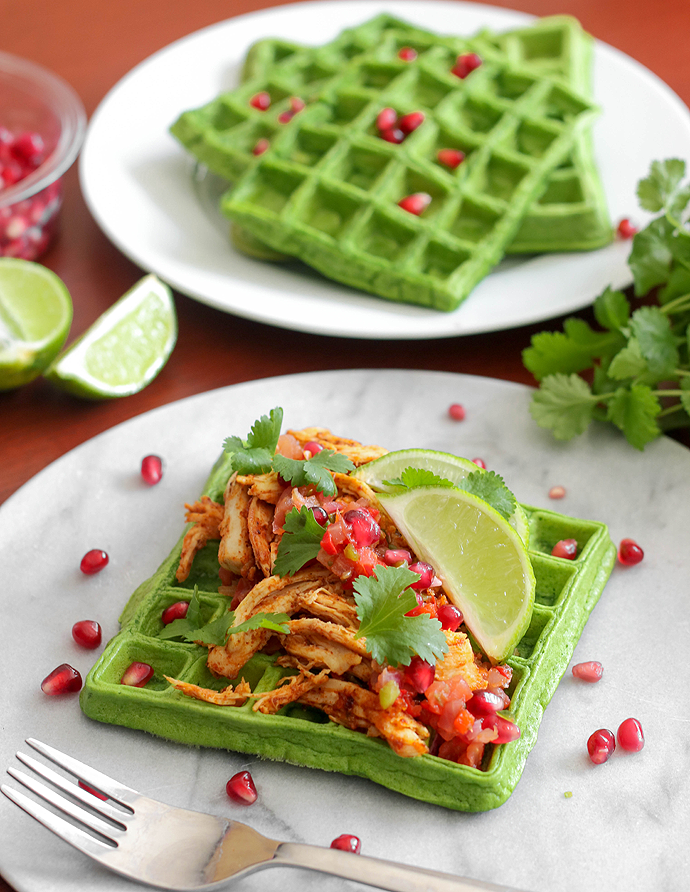 RECIPE/OPSKRIFT (4 waffles/vafler): 
Waffles/Vafler: 
– 2 big handfulls of fresh spinach/store håndfulde spinat
– 2 dl flour/mel
– 3 eggs/æg
– 1 tsp baking powder/bagepulver
– 1 dl milk/mælk
– 1 tsp salt/tsk salt
– ½ tsp pepper/tsk peber
Pulled chicken: 
– 300g chicken breast filet/kyllingebrystfilet
– 2 tbsp oil/spsk olie
– 1 tbsp paprika/spsk paprika
– ½ tsp grounded chili/tsk chilipulver
– 1 tbsp Mexico Mix spice/spsk Mexico Mix krydderi (Kan købes i Normal)
– 2 tbsp Sweet Barbecue Sauce/spsk sød barbecue sauce
Other/Andet:
– Fresh tomato salsa (I bought one)/Frisk tomatsalsa (Jeg købte en i Rema1000)
– 1 lime
– Coriander/Koriander
– 1 Pomegranate/Granatæble
1. Start out with making your pulled chicken: Bring water to a boil in a pot, add salt. Then add chicken filets and let boil for 30 minutes. // Start med at gå igang med pulled chicken: Få vand op at koge i en gryde, tilføj salt. Kom så kyllingebrystfileter i og kog i 30 minutter. 
2. Make waffle dough by adding all the ingredients to a blender. Blend until nice and smooth. // Lav vaffeldejen ved at komme alle ingredienserne i en blender. Blend indtil det er en lækker og glat konsistens. 
3. Heat up your waffle iron and bake the waffles. My Belgium waffle iron has space for 2 at a time. Add the dough and then bake. Keep checking on them, to make sure they are done. // Varm dit vaffeljern op. Mit belgiske vaffeljern har plads til 2 vafler af gangen. Kom dejen i og hold øje med dem indtil de er helt færdige. 
4. When the chicken is done boiling, it's time to pull it apart. Use two forks. When done, add the chicken to a pan and fry it along with the rest of the ingredients. Mix well. // Når kyllingen er færdig med at koge, så skal det rives fra hinanden. Her bruges 2 gafler. Når dette er gjort steges det på en pande sammen med krydderier, olie og barbecue sauce. Bland det godt. 
5. Time to add toppings to your waffles: Add a few table spoons of salsa, then add pulled chicken, then more salsa and top with coriander, fresh lime juice and pomegranate seeds. Serve! // Nu skal vaflerne toppes: Kom et par spiseskefulde salsa på, kom så kylling på – og herefter mere salsa. Til sidst toppes de med koriander, frisk lime og granatæble. Server!