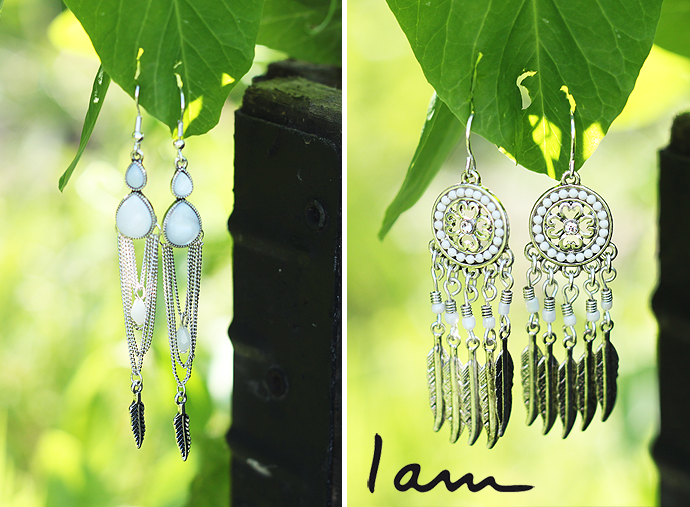 Sponsored by I AM Denmark
I recently visited the new mall in Esbjerg called "Broen" and I went to this store called I AM. It's a store filled with amazing accesories for women in affordable price ranges – such as earrings, bags, scarfs, sunglasses, belts etc. I got the two pairs of earrings pictured above. I found them both perfect for summer or fancier parties – I wore the second dreamcatcher pair at my graduation! I did, however, not only get earrings. I also got myself a belt, a pair of sunglasses and a round beach towel.
Jeg besøgte for nylig det nye center i Esbjerg som hedder "Broen". På 1. salen er der en butik der hedder I AM. Det er en butik fyldt med lækre accesories til kvinder – der er for eksempel øreringe, tasker, tørklæder, solbriller, bælter, osv. Jeg fik mig de to ovenstående par øreringe med hjem. Jeg synes de var så fine her til sommer eller til nogle finere fester – jeg havde endda det sidste par på til min dimission! Udover øreringene fik jeg også et bælte, et par solbriller og et flot rundt strandtæppe med hjem. 
I completely fell in love with the belt. I actually saw one similar when I visited Germany in May. However, my size was gone and when I saw this one in I AM, I knew I had to get it. The details are simply stunning and I am pretty sure it will look gorgeous on a simple bodycon dress. I cannot wait to wear it! 
Jeg blev fuldstændig forelsket i det ovenstående bælte. Jeg så faktisk en lignende da jeg var i Tyskland i maj, men min størrelse var udsolgt. Derfor vidste jeg også at jeg var nødt til at have dette med hjem da jeg så det inde I AM. Detaljerne er fuldstændig fantastiske og jeg er ret sikker på, at det vil se fantastisk ud til en simpel bodycon kjole. Jeg glæder mig til bruge det! 
And the sunglasses? They are just awesome. They remind me of a mix of aviators and the classic Ray Bans. I just had to get them as well. They look somewhat retro – but also modern! I love them. And at the price of only 129 danish kroner? Bargain! Anyway, I spent almost an hour in the store, just looking around. They have so many beautiful pieces, really! I AM stores are available in most countries and you can check your nearby store at their homepage, I-am.com.
Og solbrillerne? De er bare vildt fede. De minder mig om en kombination af aviators og de klassiske Ray Bans. Jeg var simpelthen også nødt til at have dem med. De er på en måde ret retro – men også moderne! Jeg elsker dem. Og så til en pris på kun 129kr? Godt køb! Nå, men jeg brugte faktisk næsten en time på at kigge rundt i butikken. Der var så mange fine ting! I AM butikkerne kan I Danmark findes i Esbjerg, Odense og Næstved – for yderligere information kan I besøge deres hjemmeside, I-am.com.