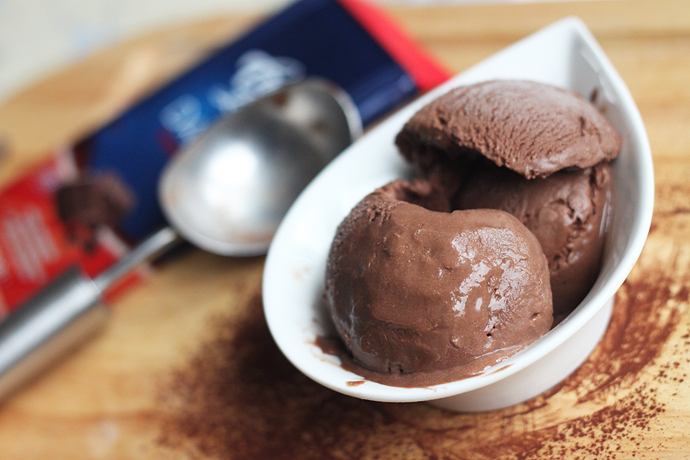 Rich, dark chocolate ice cream.. Doesn't that sound absolutely mouthwatering? Well, here's the perfect recipe! The yogurt along with the bitter dark chocolate evens out the sweetness and bitterness and makes it the perfect combination. I promise you, you will love this ice cream recipe, without a doubt! 
Mørk og lækker hjemmelavet chokolade is.. Bare tanken får mundvandet til at løbe, ikke? Nå, men her er ihvertfald den perfekte opskrift! Yoghurten i isen er med til at balancere, således at isen ikke er alt for bitter efter den mørke chokolade.. Det er den perfekte kombination, synes jeg. Jeg lover dig, at du vil elske den her opskrift, uden tvivl! 
RECIPE/
OPSKRIFT:
– 2 dl whipping cream/
piskefløde
– 150g dark chocolate/
mørk chokolade
– 25g unsweetened cocoa powder/
usødet kakaopulver
– 100g sugar/
sukker
– 2 tbsp sirup (golden or dark)/
spsk sirup (lys eller mørk)
– 2 tsp vanilla extract/
tsk vanille ekstrakt
– 4 dl plain yogurt/
yoghurt naturel
1. Add whipping cream, chocolate and cocoa in a pan and melt on medium heat while stirring. Take off the heat when completely melted. // Kom piskefløde, chokolade og kakao i en gryde og smelt det hele ved medium varme. Sørg for at rør hele tiden og tag det så af varmen når chokoladen er smeltet. 
2. Put sugar in a bowl and pour the hot chocolate-mixture on top. Stir until sugar is completely dissolved. // Vej sukker i en skål og hæld så chokolade-blandingen over. Rør rundt indtil sukkeret er smeltet. 
3. Add sirup, vanilla and yogurt. Stir until it's all mixed in well. // Tilføj sirup, vanille ekstrakt og yoghurt. Rør endnu engang rundt, indtil det hele er blandet sammen. 
4. Pour into ice cream machine and let it churn for about an hour, maybe more. Keep an eye on it. // Hæld på ismaskine og lad den køre i ca. en time. Hold dog øje med den – Min havde brug for 10-15 minutter mere end dét. 
5. When the ice cream is done, pour into a freezable container and freeze for at least 6 hours before serving! // Når isen er færdig hældes det i en boks beregnet til fryseren og fryses i mindst 6 timer før den serveres!