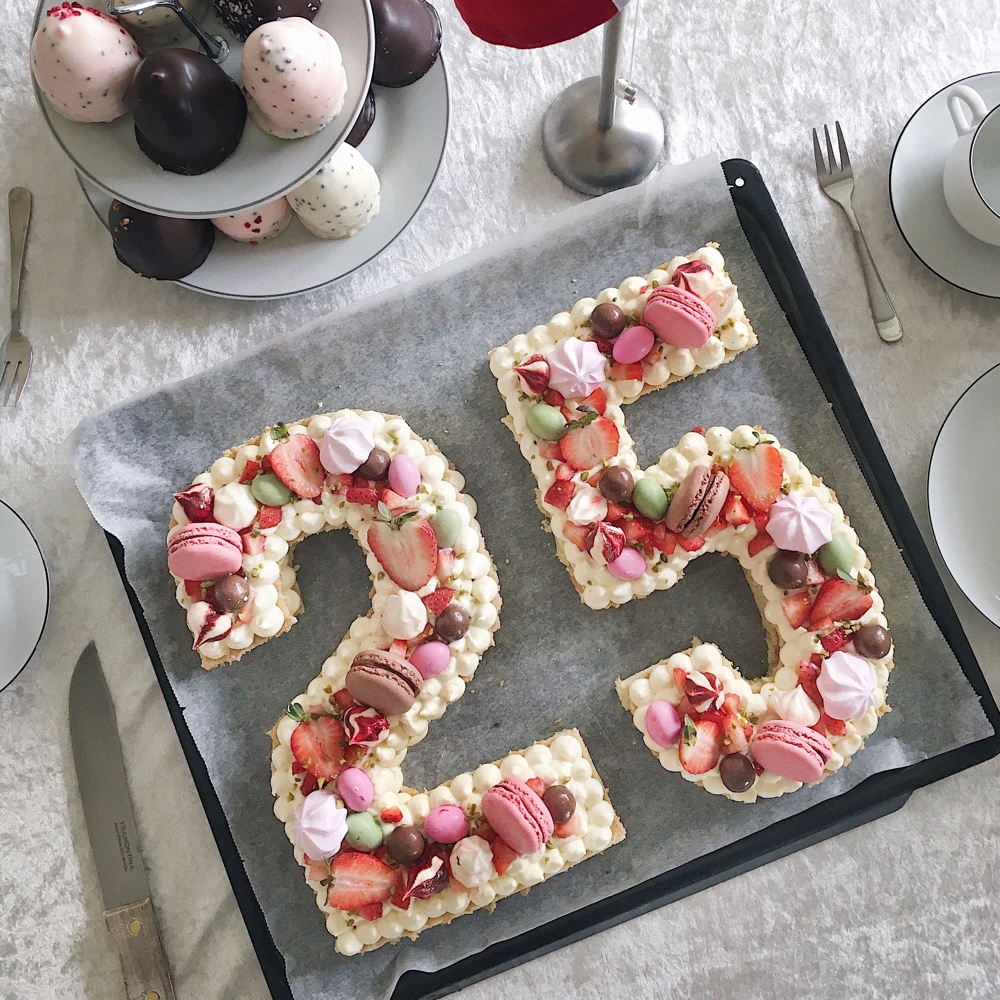 I turned 25 on March 2nd, and last week I celebrated with some of my lovely family – and so, my mom and I ended up creating this number cake. The cake is layered with two layers of vanilla sponge cake, raspberry jam, sliced bananas and pastry cream – and then decked with all sorts of deliciousness on top, such as strawberries, macarons, meringuee and chocolate easter eggs. However, you can decorate it with whatever you like! 
Jeg blev 25 den 2. marts – og sidste weekend fejrede jeg det så med noget af min skønne familie. Der skulle naturligvis serveres lagkage – og det endte blandt andet med at blive denne fine talkage. Talkagen er lagt i lag med almindelige lagkagebunde, hindbær marmelade, banan og konditorcreme – og så er den pyntet med alle mulige lækre ting på toppen, for eksempel jordbær, macarons, marengskys og små påskeæg.. Men kagen kan jo pyntes lige som man har lyst til! 
RECIPE/
OPSKRIFT
(2 numbers/
2 tal
):
– 9 eggs/
æg
– 360g sugar/
sukker
– 3 tbsp water/
spsk vand
– 3 tsp vanilla/
tsk
vanillesukker
– 270g flour/
mel
– 2½ pinches of salt/
knivspids salt
– 2½ tsp baking powder/
tsk bagepulver
– Custard of half a bag of Dr. Oetker Custard/Kagecreme af en halv pose Dr. Oetker Kagecreme
– 250ml Whipping cream/Piskefløde
– 200g raspberry jam/hindbær marmelade
– 2 bananas/bananer
– Something for decorations/Noget til at dekorere med
– Printed numbers/Tal der er printet ud
1. Turn oven on at 200 degrees celcius. Whisk eggs, sugar, water and vanilla on full power with a hand mixer for 4 minutes. Sift in flour, salt og baking powder and fold the mixture gently until combined. // Tænd ovnen på 200 grader. Pisk æg, sukker, vand og vanillesukker med håndmikser på fuld power i 4 minutter. Sigt så mel, salt og bagepulver i blandingen og fold det forsigtigt sammen indtil det er en ensartet masse.
2. Divide the batter into two equal parts and pour into two large oven baking sheets. Bake each for about 15 minutes and leave to cool. // Del dejen i to lige dele og hæld så hver del i hver sin bageplade med bagepapir i bunden. Bag bundene i cirka 15 minutter. 

3
. While the cake cools, print out big A4 numbers of your choice. Cut the numbers out from the rest of the paper. When the cake is completely cooled off, put the numbers on top and cut around the numbers. You need to have two layers of each numbers (Hence, two baking sheets with cake). Remove excess cake.  //
Imens kagen køler, printes store tal ud i A4 format. Herefter klippes de ud. Når kagen så er helt kold, så kommes tallene ovenpå og der skæres i kagen, udenom dine tal. Der skal ævre to lag af hvert tal (Også derfor der laves to bageplader!). Fjern overskydende kage rundt om dine tal. 
4
. Whip you cream and mix well with your custard. This turns it into pastry cream. Pour the pastry cream into a piping bag with a round tip. //
Pisk fløden og bland det med kagecremen. Dette gør cremen til en konditorcreme. Kom så cremen i en sprøjtepose med en stor rund tyl. 
5
. Add raspberry jam on the first layer of your number cake. Then slice the bananas and put them into the middle of the numbers. After that, neatly pipe pastry cream on the edge. You also need to add on top of the bananas, but that does not need to be as neatly done, as you only see the edges of the cake. //
Smør hindbær marmelade på det nederste lag af dine tal – Kom dog ikke helt ud til kanten! Herefter skæres bananerne i skiver og kommes på midten, ovenpå marmeladen. Til sidst tylles der pæne "dutter" på hele kanten af bundene og herefter i midten. Midten behøver ikke tylles pænt, da det kun er kanten der kan ses. 
6
. Add the last layer of number cake on top of the pastry cream and start piping it neatly all over both numbers. //
Kom den sidste bund oven på konditorcremen og tyl så pænt en masse "dutter" på det øverste lag kage.
7
. Decorate with whatever you like – But make sure to decorate right before serving! //
Pynt så med lige hvad du har lyst til – Men sørg helst for først at pynte lige inden den skal serveres!