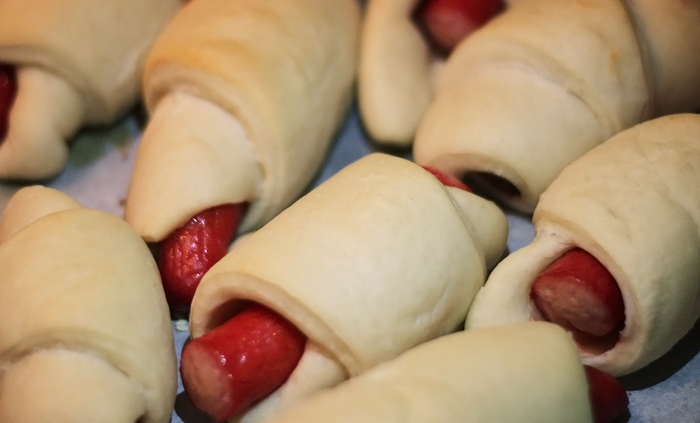 Yesterday evening, my mother and I baked sausage rolls (Well, something kind of like it, at least. This is a very Danish thing, haha!). We made a batch of regular ones with pork sausages, but besides that we also made a batch of whole weat ones with chicken sausages. Those are my favorite ones, haha! We also filled some of them with ketchup and ham. Yummy! 
Igår aftes bagte min mor og jeg pølsehorn. Vi lavede en del almindelige med røde pølser, men udover dem lavede vi også fuldkorns pølsehorn med kyllingepølser. De er mine yndlings, haha! Vi fyldte også nogle af dem med ketchup og skinkestrimler. Mums!
Recipe/Opskrift (24 rolls/24 horn):
1 package of yeast / 1 pakke gær
400g flour (If you want whole weat, use 200g of whole weat flour and 200g regular) / 400g mel (Hvis du vil have fuldkorn, så skal du bruge 200g rugmel og 200g hvedemel)
2 cups of milk / 2 dl mælk
50g melted margarine / 50g smeltet margarine
1 tsp of salt / 1 tsk salt
Mix yeast and salt. Melt margarine. Mix all of it in a bowl, and then mix in the flour. Knead the dough. Then let it rest for a little while. When done, roll out the dough in a circle and cut them like you cut a pizza. Put the sausage on one piece and roll the dough around it. Put a bit of milk on top of them, and then sprinkle the optional sesameseads on top. Heat in oven until done, on 200 degrees c. One whole weat sausage roll with chicken sausages contains 121 calories. If you choose the ham and ketchup as filler instead, it only contains about 98 calories. Enjoy! 
Bland gær og salt. Smelt margarinen. Bland det hele i en skål, og bland melen i. Ælt dejen. Lad den hvile i et lille stykke tid dernæst. Når den er færdig, så rul dejen ud i en cirkel og skær den ud som man skærer pizza ud. Læg pølsen på og rull dejen omkring. Pensel lidt mælk ovenpå, og drys lidt sesamfrø på (Disse kan man selvfølgelig også undlade!). Varm i ovnen indtil de er færdige, på 200 grader. Et fuldkorns pølsehorn med kyllingepølse indeholder 121 kalorier. Hvis du vælger dem med skinkestrimler og ketchup istedet, så har de kun 98 kalorier. Enjoy!