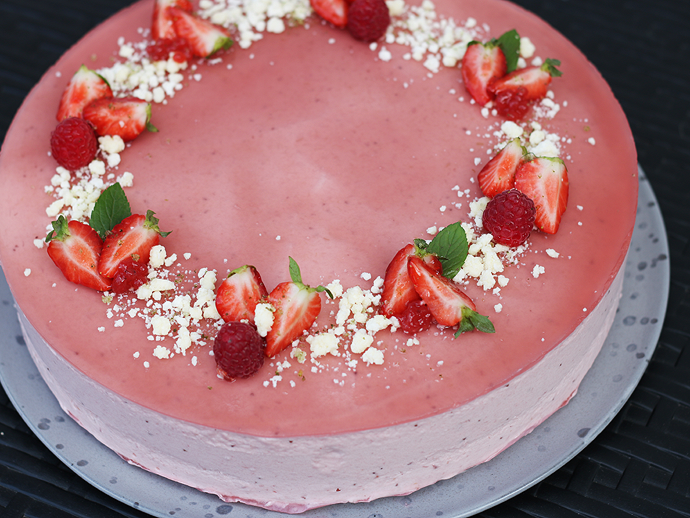 We recently celebrated that I am now a bachelor in international business communication with english and media (Well, I have been for a month now!).. And of course a celebration requires cake! This was one I'd been planning for quite some while. It's a summer layer cake with vanilla sponge cake, rhubarb, white chocolate and strawberry! I loved how it turned out in the end – My vision definitely came true. Anyway, here's a (quite long) recipe! 
Vi skulle for nyligt fejre at jeg er blevet bachelor i international virksomhedskommunikation med engelsk og medier (Det har jeg faktisk været i en måned nu!).. Og selvfølgelig kræver sådan en fejring jo kage! Det her var en jeg havde overvejet i et stykke tid. Det er en sommer lagkage med vanillebunde, rabarber, hvid chokolade og jordbær! Jeg er helt vild med slutresultatet. Nå, men her er en (ret lang) opskrift! 
RECIPE/OPSKRIFT (26cm diameter):
Vanilla sponges/Vanille bunde:
– 6 eggs/æg
– 240g sugar/sukker
– 1½ tbsp water/spsk vand
– 2 tsp vanilla/tsk vanillesukker
– 180g flour/mel
– 1½ pinches of salt/knivspids salt
– 1½ tsp baking powder/tsk bagepulver
How to: Turn oven on at 200 degrees celcius. Whisk eggs, sugar, water and vanilla on full power with a hand mixer for 4 minutes. Sift in flour, salt og baking powder and fold the mixture gently until combined. Pour into a greased 24cm springform pan and bake for about 30-35 minutes. Leave to cool and then cut to make 3 vanilla sponges. We, however, only need 2 for this recipe, so save the last one in the freezer for other cakes! 
Hvordan: Tænd ovnen på 200 grader. Pisk æg, sukker, vand og vanillesukker med håndmikser på fuld power i 4 minutter. Sigt så mel, salt og bagepulver i blandingen og fold det forsigtigt sammen indtil det er en ensartet masse. Kom fedtstof på en 24cm springform og hæld så dejen i og bag den i 30-35 minutter. Lad den dernæst køle. Efter den er kølet skæres den til tre bunde. Vi skal dog kun bruge to i til denne kage, så gem den sidste i fryseren til en anden god gang!
Rhubarb ganache & compot/Rabarber ganache & kompot: 
– 215g rhubarb/rabarber
– ½ dl water/vand
– 1 tsp vanilla sugar/tsk vanillesukker
– 125g sugar/sukker
– 38g whipping cream/fløde
– 100g white chocolate/hvid chokolade
– 1 dl rhubarb juice/rabarbersaft 
How to: Make this the day before! Add rhubarb, water, vanilla and sugar in a pan and let simmer for 30 minutes. Sift the mix into sirup and compot. Leave both to cool for a bit. Then heat the cream and pour it over the white chocolate until the chocolate melts. Add 1 dl rhubarb juice into the mix and leave to cool until you have to use it. When you have to use it, beat it well until fluffy! When making the cake, take the first layer of sponge at the bottom of the springform pan, add the compot and then add the whisked ganache on top of the compot and add another sponge.
Hvordan: Lave dette dagen før! Kom rabarber, vand, vanillesukker og sukker i en gryde og lad det simre i 30 minutter. Si så siruppen fra og kom det på køl. Kom også den overskydende kompot på køl. Varm så fløden op og hæld det over den hvide chokolade, så chokoladen smelter. Tilføj 1 dl rabarbersaft og bland godt og kom på køl. Pisk ganachen op når den skal bruges! Når kagen skal samles, lægges én bund nederst i springformen og ovenpå kommes kompotten. Hernæst kommes ganachen ovenpå kompotten og endnu en bund lægges ovenpå. 
White chocolate mousse/Hvid chokolade mousse:
– 225g white chocolate/hvid chokolade
– 2 gelatine leaves/husblas
– 3 dl whipping cream/piskefløde
How to: Leave the gelatine leaves in really cold water for 5-10 minutes. Chop 125g of the chocolate and heat up the cream. Pour the cream over the chocolate and mix well until all melted and then add the softened gelatine leaves and mix well once again. Cover with clingfilm. Make sure the clingfilm is completely touching the mousse-mix. Leave to cool for at least 3 hours and then beat before using and then chop the rest of the chocolate and mix into the mousse. Add the mousse on top of the cake and put the cake in the freezer for about an hour. 
Hvordan: Opblød husblassen i koldt vandt i cirka 5-10 minutter. Hak 125g chokolade og kom det i en skål. Varm så fløden op og hæld det over chokoladen og bland indtil det er smeltet. Vrid husblassen og kom det dernæst i, indtil det er smeltet. Kom husholdningsfilm helt ned til overfladen af blandingen og kom det på køl i mindst 3 timer. Når moussen har kølet, skal den piskes op. Hernæst hakkes det resterende chokolade og blandes i og moussen kommes ovenpå kagen. Frys hernæst kagen i cirka en time. 
Strawberry mousse/Jordbær mousse:
– 500g strawberries/jordbær
– 5dl whipping cream/piskefløde
– 120g sugar/sukker
– 1 tsp vanilla/vanillesukker
– 2 tsp lemon juice/citronsaft
– 6 gelatine leaves/husblas
How to: Put strawberries, sugar and vanilla in a pan and bring to boil and then let simmer for 5 minutes while the gelatine leaves are softening in cold water. Take the pan off the heat and mix the softened gelatine leaves into the berry-mixture and mix until melted. Blend the mixture with a hand blender and pour over a sift to sift away most of the strawberry seeds. Add lemon juice and then leave to cool, but make sure it does not harden! Then whisk the whipping cream and start off by adding about 3 spoons of cream to the berry-mixture and mix well. Then add the berry-cream mixture to the whipping cream and mix slowly until completely combined. Pour mousse into a piping bag. Take the cake out of the freezer and move from the springform pan into the middle of a 26cm springform pan. Add baking paper along the edges to make sure to get a nice sharp cut. Pipe mousse along the edges and on top of the smaller cake and then smoothen. Put cake into freezer for about 2 hours. 
Hvordan: Kom jordbær, sukker og vanille i en gryde og kog det op og lad det dernæst simre i 5 minutter imens husblassen opblødes i koldt vand. Tag gryden af varmen og vrid husblassen og kom det så i og bland indtil det er smeltet. Blend så det hele med en stavblender og si blandingen (næsten) fri fra jordbær-kerner. Tilføj citronsaft og lad det køle af, men sørg for at det ikke når at stivne! Pisk så fløden og start med at tilføje 3 skefulde af fløden i bærblandingen og bland. Kom så bær-fløde blandingen over i fløden og vend det indtil en ensartet masse. Kom moussen i en sprøjtepose. Tag kagen af fryseren og fjern fra springformen og sæt den i midten af en 26cm springform. Kom dernæst kageplast i kanten og tyl så moussen omkring og ovenpå den mindre kage og bank kagen et par gange i bordet og forsøg dernæst at gøre moussen glat. Kom i fryseren i 2 timer. 
Rhubarb jelly/Rabarber gelé: 
– Rhubarb juice/rabarbersaft
– 1 dl water/vand
– 3 gelatine leaves/blade husblas
How to: Leave the gelatine leaves in really cold water for 5-10 minutes. Mix the rest of the rhubarb juice from making the ganache with some water and heat up. Add the softened gelatine leaves and stir until dissolved. Leave to cool until about 35 degrees celcius and then pour on top of the cold cake, by pouring it over the bottom of a spoon (To avoid bubbles). Leave in fridge to set. When completely set, open springform and slowly remove baking paper from the cake. Garnish the cake before serving! 
Hvordan: Opblød husblassen i koldt vand i 5-10 minutter. Bland det resterende rabarbersaft med vand og varm det op. Vrid husblassen og smelt det i rabarbersaften. Lad det dernæst køle indtil det rammer cirka 35 grader og hælder det så over kagen ved at lade det falde ned over bagsiden af en ske først (for at undgå luftbobler). Sæt kagen på køl indtil geléen er sat. Når den er sat åbnes springformen og kageplast/bagepapir fjernes langsomt fra siden af kagen. Pynt herefter kagen og server!