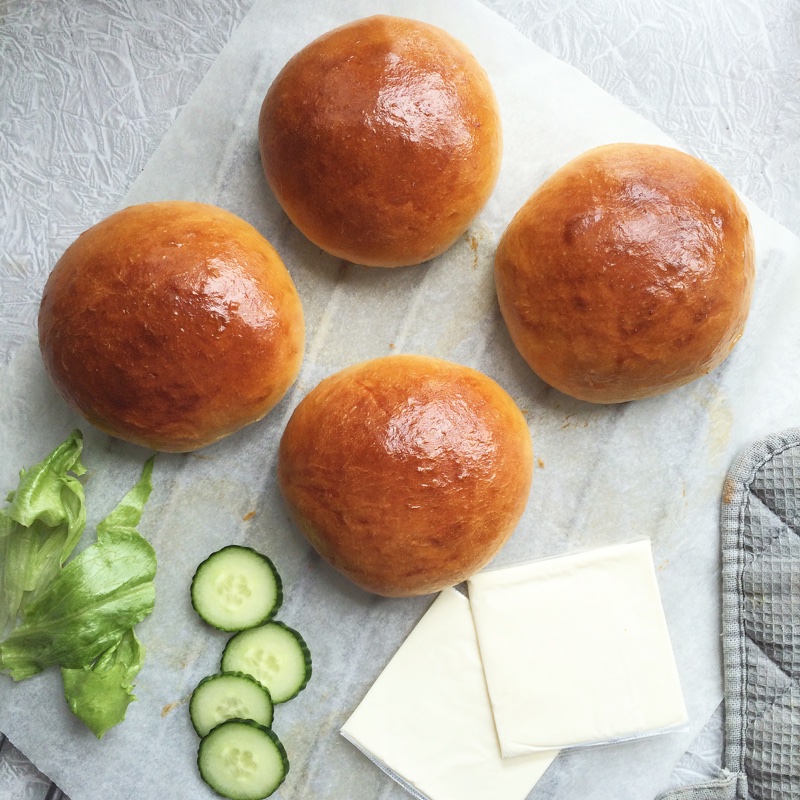 I love Burgers. Honestly, who doesn't? The way you can stuff them with anything you like – Chicken, beef patties, pulled pork, vegetables.. Honestly, it's all up to your imagination! Anyway, yesterday I decided we were going to have cheeseburgers for dinner. A burger filled with beef patties, ketchup, barbeque sauce, vegetables and melted cheese and then to top it all off; these gorgeous and shiny homemade burger buns and fries on the side. YUM! Next time I think I'll try to get a hold of some sesame seeds to top them off with, even if that gorgeous shine is enough by itself! They do take a little while to make and a little patience, but they're well worth it! 
Jeg elsker Burgere. Ærligt, hvem gør ikke det? En bolle fyldt med lige hvad man kan lide – Kylling, bøf, pulled pork, grøntsager.. Faktisk, lige hvad fantasien nu finder på! Nå, men igår bestemte jeg mig for at vi skulle have cheeseburger til aftensmad. En burger fyldt med hakkebøf, ketchup, barbeque sauce, grøntsager og smeltet os – og selvfølgelig indeni en smuk hjemmelavet burgerbolle og med pommes frites ved siden af. MUMS! Næste gang tror jeg dog, at jeg vil komme sesamfrø ovenpå også – på trods af, at denne burgerbolle er ret flot uden også! Disse burgerboller tager lidt tid og tålmodighed at lave, men de er helt sikkert dét værd!
RECIPE/
OPSKRIFT
(8 buns/
boller
):
– 25g yeast/
gær
– 3 1/5 dl milk/
mælk
– 1 ½ tbsp sugar/
spsk sukker
– 2 tsp salt/
tsk salt
– 9 dl flour/
hvedemel
– 2 eggs + 1 for brushing/
æg + 1 til pensling
– 140g soft butter or margarine/
blødt smør eller margarine
1. Warm the milk and dissolve the yeast in the milk. Add sugar, salt and half of the flour and mix well (Best on a stand mixer). // Lun mælken og opløs gæren heri. Tilføj sukker, salt og halvdelen af melet og bland godt (Bedst at gøre på en køkkenmaskine). 
2. Add one egg at a time and then add butter. Add the rest of the flour, little by little, until the dough lets go of the sides of the bowl. Cover the bowl with a tea towel and let rise to double size (1-2 hours). // Tilføj ét æg ad gangen og så smør. Tilføj resten af melen lidt efter lidt, indtil dejen slipper skålens sider. Dæk dejen med et viskestykke og lad hæve til dobbelt størrelse (1-2 timer) 
3. Seperate the dough into 8 pieces and shape into buns. Place them on a baking tray with a baking sheet and brush with egg. Let rise for another hour. // Del dejen i 8 dele og form dem til boller. Placer på bageplade med bgepapir og pensl æg på. Lad så hæve i endnu en time. 
4. Turn the oven at 200 degrees celcius and bake the buns for 8 minutes. Then take them out, brush with egg once again (and this is also where you add sesame seeds, if you want those on your buns) and bake for another 10-12 minutes. // Tænd ovnen på 200 grader og bag bollerne i 8 minutter. Tag dem så ud og pensl med æg endnu engang (det er også her du skal tilføje sesamfrø, hvis du vil have dem på bollerne) og bag dem så i endnu 10-12 minutter. 
5. Let cool a little before serving with stuffing of your choice! // Lad dem køle lidt af før de serveres med dit yndlings fyld!