I've tried making homemade "Flødeboller" (Chocolate marshmallows) several times before, using lots of different recipes. Flødeboller was first invented in Denmark at about year 1800. They used to be made with cream inside which is why they got the name "Flødeboller" (Cream buns). However, today we make them with egg whites and sugar – Some sort of meringuee!
The Flødeboller my mom and I made today are probably the prettiest Flødeboller we've ever made (Honestly, I'm a bit of a perfectionist when it comes to my baking and I LOVE when what we make turns out pretty). They're actually not that hard to make – You just need to make sure you have a sugar thermometer though. We made some regular ones (some with coconut on top) and some with raspberry! 
Jeg har prøvet at lave hjemmelavede flødeboller rigtig mange gange før med mange forskellige opskrifter. Flødeboller blev første gang opfundet her i Danmark tilbage i 1800-tallet. Dengang blev de dog lavet med flødefyld, hvorimod de i dag jo bliver lavet med æggehvide og sukker – En form for marengs!
De flødeboller min mor og jeg fik lavet i dag er nok de smukkeste vi nogensinde har lavet (For at være ærlig, så er jeg ret perfektionistisk når det kommer til mit bagværk. Jeg ELSKER når det der bliver lavet ender med at være smukt). De er faktisk ikke sådan sindssygt svære at lave – Du skal bare være sikker på at have et sukkertermometer inden du går igang. Vi lavede nogle med almindelig skum, nogle med kokos ovenpå og nogle med hindbær!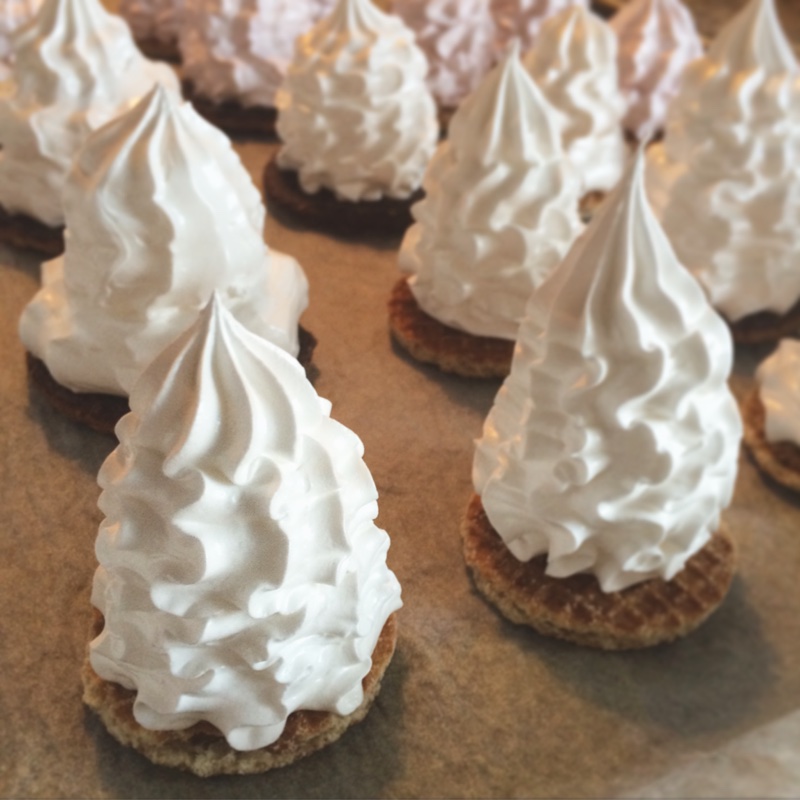 RECIPE/OPSKRIFT:
– 250g sugar/sukker
– 3/4 dl (75g) water/vand
– 110g glucose syrup/glukosesirup
– 140g pasteurized egg whites/pasteurisede æggehvider (ca. 3 bægre)
– 15g sugar/
sukker
– Round wafers/
Runde vafler (Karamelvafler eller f.eks. havrekiks)
– Whatever taste and topping you'd like/
Den smag eller topping du har lyst til! 
– 400g chocolate/
chokolade
1. Pour egg whites and 15g sugar in a COMPLETELY clean (This is VERY important!) bowl. Don't whisk it yet – Just make sure it's ready to be whisked. // Hæld æggehvider og 15g sukker i en HELT ren (MEGET VIGTIGT!) skål. Det skal ikke piskes endnu – Det skal bare være klar til at blive pisket. 
2. Add 250g sugar, water and glucose syrup to a pot. Cook the mixture until it's exactly at 117 degrees celcius. Let it cook slowly. // Tilføj 250g sukker, vand og glukosesirup til en gryde. Kog massen op til det når 117 grader. Lad det koge langsomt. 
3. When the sugar mixture is at about 110 degrees, start whisking the egg whites. Whisk until the sugar mixture in the pot is at 117 degrees (It should be very airy and fluffy!) // Når sukkerblandingen er ca. 110 grader, skal æggehviderne piskes. Pisk indtil sukkermassen i gryden rammer de 117 grader. 
4. Pour the hot sugar mixture into the egg whites and whisk at full speed. When poured in, whisk for another 7-10 minutes (If you want taste in your Flødeboller, this is also where to add it) // Hæld den varme sukkermasse i æggehviderne i en tynd stråle, imens der piskes på fuld hastighed. Når det er hældt i, så pisk i 7-10 minutter mere (Hvis du vil have smag i dine flødeboller, så skal det også tilføjes her). 
5. Add the "meringuee" to a piping bag with a star tip and pipe it out on the wafers. This takes practice – Trust me! // Tilføj flødebolleskum til en tyllepose med en flot stjernetip og tyl så ud på de runde vafler. Det her kræver øvelse – Tro mig! 
6. Let the "Flødeboller" rest for about 1-2 hours at roomtemperature – This makes sure they'll be easier to coat with chocolate! // Lad flødebollerne stå i 1-2 timer ved stuetemperatur, så de danner en lille hinde. Det gør det nemmere at overtrække dem med chokolade. 
7. Temper the chocolate of your choice and then start coating the chocolates. What we did was to put one Flødeboller at a time on a wire tray on top of a bowl and then pouring the chocolate on top of the Flødebolle. Give the tray a few shakes to get rid of excessive chocolate and that way getting a thin coat. // Temperer den chokolade du vil have overtrukket med og start så med at overtrække. Det vi gjorde var at komme en lille rist over en skål. Vi placerede så én flødebolle ad gangen på risten og hældte chokoladen over. Derefter bankede vi risten ned i kanten af skålen indtil det overskydende chokolade var kommet af og der var et tyndt lag på flødebollen. 
8. Sprinkle with whatever you'd like and let the chocolate harden. Then serve! // Kom det topping på som du synes og lad så chokoladen størkne og server så!