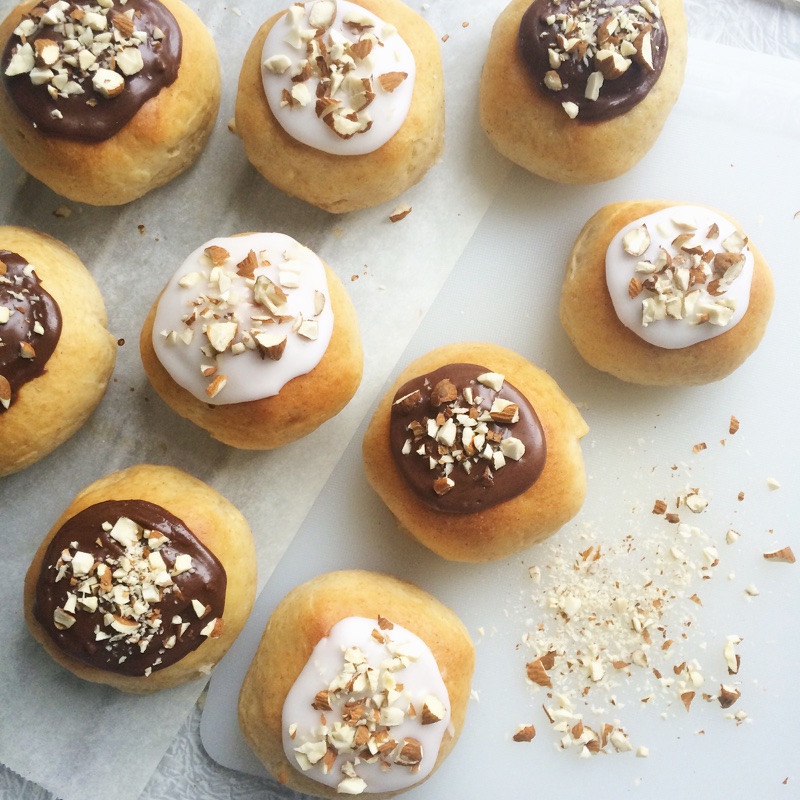 Fastelavnsboller is a special kind of filled buns we eat in Denmark around "Fastelavn". They can be made out of pastry filled with cream, jam or whatever one would like and then they can be like these I made that are made out of a regular yeast dough, just like any normal bun would, except they can be filled with pastry cream, marzipan fillings (also known as remonce), jam, chocolate or whatever you'd actually like to add to them before baking them! Then on top you add the frosting you'd like and sprinkle! They're very decorative and they taste yum!
Fastelavnsboller kan jo laves på så mange måder, men uanset hvad er det jo en tradition at lave her i Danmark når vi kommer tættere på fastelavn. De kan laves med wienerbrød og vandbakkelse hvor de fyldes med fløde, syltetøj eller lige hvad man har lyst til – og så kan de laves på gammeldags facon hvor man bruger en gærdej og fylder dem med kagecreme, remonce, syltetøj, chokolade og hvad man egentlig lige føler for.. Og selvfølgelig skal de så også pyntes med glasur (og eventuelt den krymmel man har lyst til). De er så dekorative og så smager de super godt!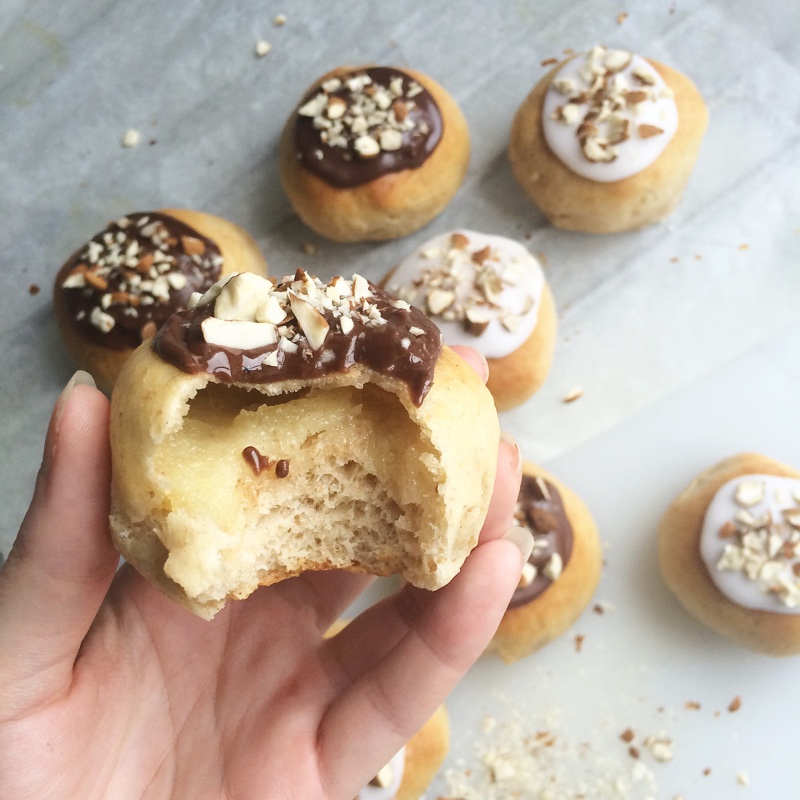 RECIPE/OPSKRIFT (9):
Dough/Dej:
– 25g yeast/gær
– 1 dl milk/mælk
– 50g margarine
(eller flydende becel)
– 2 tbsp sour cream/
spsk creme fraiche
– 1/4 tsp salt/
tsk salt
– 1 tbsp sugar/
spsk sukker
– ½ tsp vanilla/
tsk vanillesukker
– Flour/
Mel
1. Heat up the milk and margarine until lukewarm. Add the yeast and make sure it's completely dissolved. // Varm mælk og margarine op samme indtil det er lunt. Tilføj gæren og sørg for at det er helt opløst.
2
. Add sugar, salt and vanilla and mix. //
Tilføj sukker, salt og vanillesukker og bland godt sammen.
3
. Add the sour cream and mix once again. //
Tilføj creme fraiche og bland godt sammen endnu engang.
4
. Add flour. The dough should end up soft and a little moist/sticky. It shouldn't be dry! Knead for about 6-8 minutes. //
Tilføj mel i passende mængder til sidst (Jeg brugte en smule grahamsmel i). Dejen skal ende med at være blød og en smule fugtig/klistret. Endelig ikke for tør!
5
. Let the dough rise for 30 minutes under a damp tea towel. //
Lad dejen hæve i 30 minutter under et fugtigt viskestykke.
Remonce/Filling:
– 80g marzipan/marcipan (Jeg brugte 40% marcipan, hvilket gør den er lidt sødere end almindelig)
– 40g icing sugar/flormelis
– 40g butter/smør
6. Mix marzipan, icing sugar and butter (Kneading is the best way to do it) while the dough is rising. // Bland marcipan, flormelis og smør (Det er nemmest at ælte det sammen) imens dejen hæver.
7. When the dough is done rising, roll it out into a square. Cut the square into 9 smaller squares. Divide the filling into all the squares. // Når dejen er færdig med at hæve skal det rulles ud til en stor firkant. Dernæst skæres den store firkant til 9 små firkanter, hvor remoncen så deles ud på hver af de 9.
8. Close the buns by folding each end in on top of the filling. Make sure it's ALL closed or the filling will run out while baking. // Luk bollerne ved at folde alle enderne af firkanten sammen over remoncen. Vær sikker på at de er lukket GODT sammen, for ellers flyder remoncen ud når de bages!
9. Put on a baking sheet with baking parchment paper. Make sure the closing is faced downwards the paper. Let them rise for 15 minutes and then brush them with milk (or eggwash, if you prefer). // Sæt dem på en bageplade med bagepapir. Sørg for at lukningen vender ned mod papiret. Lad dem hæve i endnu 15 minutter og pensl dem så med mælk (eller æg, hvis du foretrækker det).
10. Bake for 10-12 minutes at 225 degrees celcius. // Bag i 10-12 minutter på 225 grader.
11. When cool, frost them with whatever frosting you'd like and sprinkle them with whatever you'd like and then serve! // Når de er kølet af kommes der glasur på og den krymmel du kunne tænke dig og server så!