It wasn't even my intention to bake anything these days, as I have so much school work – But last night my boyfriend asked if I'd baked anything and I told him I couldn't as the pantry and fridge is pretty much empty and also because of all the school work. Anyway, I remembered today that he had oatmeal in the kitchen and I ended up baking these delicious cookies! They remind me so much of my teenage years because of how they taste so much like the cookies my stepmom used to buy from the grocery store. They're so yummy! 
Det var egentlig ikke meningen at jeg ville bage her de her dage, fordi jeg simpelthen har så meget skolearbejde for tiden – Men igår aftes spurgte min kæreste om jeg ikke havde bagt noget, og jeg fortalte ham at det var svært at gøre uden ingredienserne, og jeg følte egentlig heller ikke for det med alle lektierne der skulle laves. Nå, men så i dag kom jeg i tanke om at han har havregryn til at stå ude i køkkenet og jeg endte alligevel med at bage disse lækre havregrynskager! De minder mig så meget om mine teenageår, hvor min fars kæreste tit købte havregrynskager med hjem fra Rema 1000 i de der bøtter.. Ved I hvilke jeg taler om? De er så gode!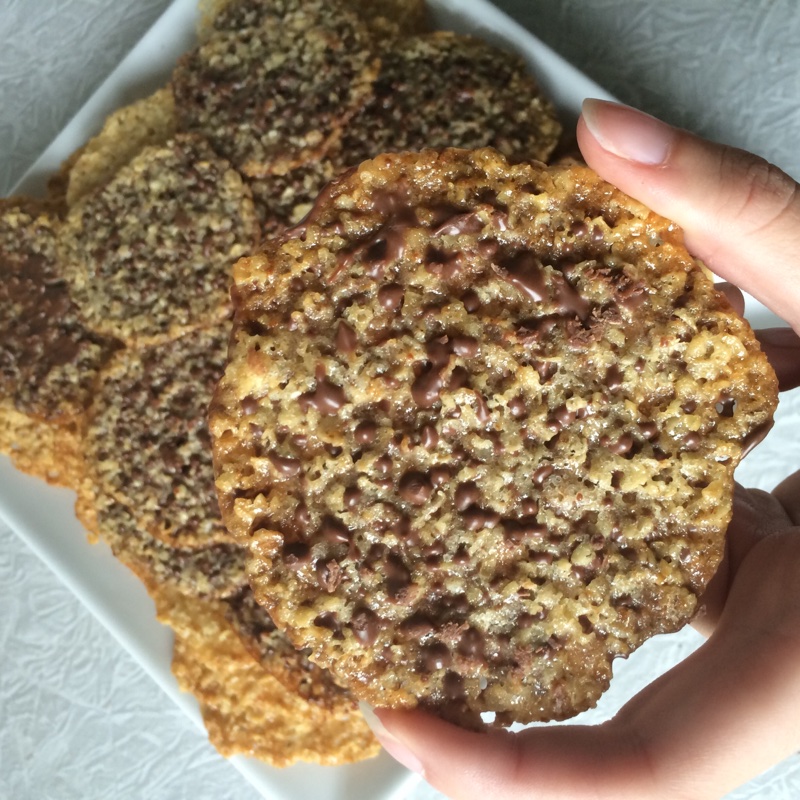 RECIPE/OPSKRIFT – 36 cookies/småkager: 
– 100g margarine
– 110g oatmeal/finvalsede havregryn
– 150g sugar/sukker
– 3 tsp baking powder/tsk bagepulver
– 1 tbsp oil/spsk olie
– 2 tbsp water/spsk vand
– 3 tsp flour/tsk hvedemel
1. Start off by melting the margarine and pour in the oatmeal. Mix it together and let it sit for 10 minutes. // Start med at smelte margarinen og hæld dernæst havregrynene i. Lad det dernæst trække i 10 minutter.
2. In a cup or small bowl, mix 2 tsps of baking powder, the water and the oil. // Bland 2 tsk bagepulver, vand og olie sammen i en kop eller en lille skål. 
3. After 10 minutes, add sugar, 1 tsp baking powder, flour and the water/oil/baking powder mix to the oatmeal-mixture. // Efter 10 minutter tilføjes sukker, 1 tsk bagepulver, hvedemel og vand/olie/bagepulver-blandingen i havregryns-blandingen. 
4. With a teaspoon, place cookies on a baking sheet. Make sure there's a lot of space in between them, as they will merge. Bake them for 8-10 minutes at 200 degrees celcius. // Med en teske, læg så 9 klatter dej på bagepladen. Sørg for at der er godt mellemrum imellem dem, eftersom de flyder meget ud. Bag dem i 8-10 minutter på 200 grader. 
5. Let them cool and place on a cooling rack. If you want, brush chocolate on the bottom or just eat them as they are! // Lad dem køle af og placer dem dernæst på en rist for at køle helt og aldeles af, så de bliver sprøde. Hvis du vil, kan bunden pensles med chokolade, men de kan også spises præcis som de er!