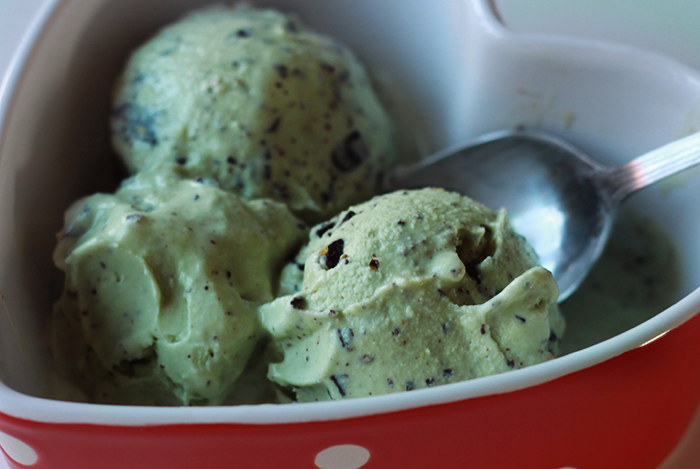 I love pistachio ice cream. Actually, I pretty much love just about everything pistachio, so of course I had to try to make my own pistachio ice cream too. We had some dark pistachio chocolate from Marabou Premium we used for it too. Yummy! This is probably by far my favorite homemade ice cream! 
Jeg elsker pistacie is. Faktisk, så elsker jeg egentlig alt hvad der har med pistacie at gøre, så selvfølgelig skulle jeg da også forsøge at lave min egen pistacie is. Vi havde noget mørk pistacie chokolade fra Marabou Premium også, som vi brugte. Mums! Dette er helt sikkert min yndlings hjemmelavede is indtil videre!
__________________________________________
RECIPE/OPSKRIFT:
2 large eggs / 2 store æg (Pasteuriserede!)
3/4 cup (160 g.) sugar / 160 g. sukker
2 cups (½ liter) heavy or whipping cream / ½ liter fløde
1 cup milk / 1 dl. mælk
Pistachio extract / Pistacie aroma
100 g dark chocolate / 100 g mørk chokolade
Whisk the eggs in a mixing bowl until light and fluffy, 1 to 2 minutes. Whisk in the sugar, a little at a time, then continue whisking until completely blended, about 1 minute more. Pour in the cream and milk and whisk to blend. (Makes 1 quart). Add pistachio extract. 
Add in a box capable of freezing (or just in an ice cream machine for about 30 mins – Put in the chocolate after 15 mins), put into freezer. Remember to stir in the icecream once every hour, until it's creamy soft-ice like. Add chocolate when the ice cream is creamy and soft-ice like. Let it freeze completely after that. Enjoy!
Pisk æggene i et par minutter til det bliver en luftig hvid masse. Pisk sukkeret i til det er rørt godt ud. Pisk fløden og vend den i sammen med mælken. Tilføj pistacie aroma efter smag. 
Hæld ud i en ismaskine og lad den køre i ca. 30 minutter (Tilføj chokolade efter 15 minutter), eller en plastik beholder og i fryseren. Hvis du putter den i plastik beholder og i fryseren, så husk at røre rundt et par gange i isen (Gerne 1 gang hver time), inden den er helt frossen, så den ikke bliver krystalliseret. Tilføj chokolade i isen, når den får en soft-ice lignende konsistens, og lad den dernæst fryse helt indtil den er klar til at blive spist. Enjoy!