I made this layered banana cake for my birthday back in March – and it was so insanely divine, honestly. Would you look at that caramel just oozing out of that slice on the picture below! The banana cake along with that milk chocolate Marabou mousse, the Dulce de Leche caramel and the Werther's Popcorn was a match made in heaven. However, it does take some time to make this cake – I assembled it the night before it was served and made the mousse and Dulce de Leche a day before as well. It is so worth it though!
Jeg lavede denne banan lagkage til min fødselsdag tilbage i marts – og den var ærlig talt helt afsindig god. Prøv lige at se hvordan den der Dulce de Leche karamel flyder ud af det der stykke kage på billedet nedenunder! Mums! Banan bundene sammen med Marabou mælkechokolade moussen, Dulce de Leche karamellen og toppet med Werther's Popcorn var et helt perfekt match. Den tager dog et stykke tid at lave – Jeg samlede kagen dagen før den skulle serveres, og mousse samt Dulce de Leche blev gjort klar om aftenen en dag endnu tidligere. Det er dog helt klart tiden værd!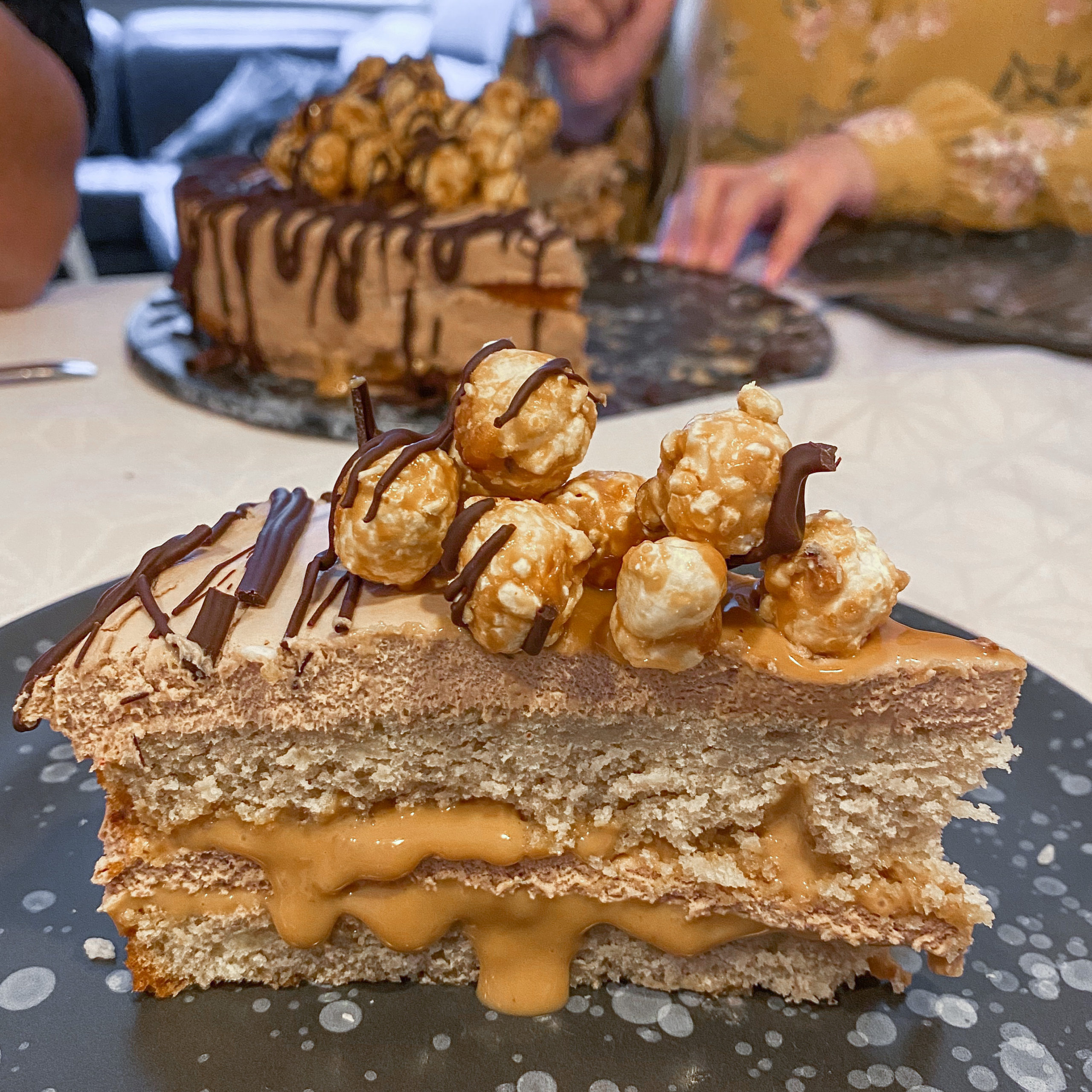 RECIPE/OPSKRIFT (Ø24 cm):
Dulce de Leche:
– 1 can of condensed milk (or just buy a can of Dulce de Leche, your choice)/dåse kondenseret mælk (Eller køb en dåse Dulce de Leche, det er helt op til dig selv)
How to: Boil the can of condensed milk in a pot of water for about 3 hours or so. Make sure that the can is constantly covered with water. After boiling leave the can to cool. If you prefer to not boil in the can, you can also pour the condensed milk into a glass jar and boil it. When cooled just whisk it through to make sure it's smooth.
Hvordan: Kog dåsen med kondenseret mælk i en gryde med vand i cirka 3 timer. Sørg for at dåsen konstant er dækket med vand. Når dåsen er færdig med at koge skal den blot køle helt af (gerne natten over). Foretrækker du at ikke koge i dåsen, så kan du også hælde den kondenserede mælk i et sylteglas og koge i dette. Når karamellen er helt kold så piskes den kort igennem, så den er helt glat. 
Marabou mousse:
– 4 gelatine leaves/blade husblas
– ½ L whipping cream/piskefløde
– 200 g Marabou milk chocolate/mælkechokolade
How to: Leave the gelatine leaves to soften in cold water. Heat up the whipping cream in a pan until it bubbles just a bit (make sure it doesn't boil). Turn down the heat and melt the chocolate in it – Whisk until chocolate is completely melted into the cream. Add the softened gelatine leaves and melt them into the mousse mixture. Pour it all into a bowl through a sieve. Cover with clingfilm and make sure it touches the surface of the mousse mixture completely, so there won't be any condensation. Leave to cool for about 4 hours or 2 hours in the freezer. When completely cooled of, whisk the Marabou mousse until airy and light.
Hvordan: Læg husblas i blød i koldt vand. Varm fløden op i en gryde indtil den bobler en smule (Det er vigtigt, at fløden ikke koger). Skru ned for varmen og smelt chokoladen i fløden. Rør rigtig godt rundt, så du er sikker på at det er helt smeltet. Vrid husblas og kom det i blandingen og hæld det over i en skål, gerne igennem en si. Læg et stykke husholdningsfilm over skålen og tryk det godt ned på overfladen af blandingen, så der ikke dannes kondens. Stil det på køl i ca. 4 timer eller i fryseren i 2 timer. Efter den er helt kold piskes moussen til den er lys, luftig og fast i konsistensen. 
Banana cake/Banankage:
– 150g melted margarine/smeltet margarine
– 4 eggs/æg
– 150g sugar/sukker
– 50 g brown sugar/brun farin
– 1 tsp vanilla sugar/tsk. vaniljesukker
– 150g flour/hvedemel
– 1 tsp. baking powder/tsk. bagepulver
– ½ tsp salt/tsk. salt
– 3 ripe bananas/modne bananer

How to: Turn the oven on at 180 degrees C. Melt the margarine and then let it cool. Whisk eggs, sugar, brown sugar and vanilla sugar until light and airy. Now mix in the flour, baking powder and salt. Mash the bananas and mix them with the melted margarine – then add that to the batter. Butter a 23 cm springform pan and add the batter into the. Bake for about 45-50 minutes. Let cool completely and then cut the cake into two cake layers. 
Hvordan: Tænd ovnen på 180 C. Smelt margarine og lad det køle af. Pisk æg, sukker, brun farin og vaniljesukker lyst og luftigt. Bland herefter melet, bagepulver og salt sammen og rør det i dejen. Mos bananerne og bland sammen med det smeltede margarine og rør det i dejen. Beklæd en springform på 24 cm i diameter med bagepapir i bunden. Bag banankagen i ca. 45-50 minutter. Lad kagen køle af og skær den så i halv, så den bliver til to lagkage bunde.
Assembling the cake/Samling af kagen:
Put the first layer of the banana cake into the spring form placed on the dish you want to serve it on. Then add 1/3 of the Dulce de leche and then half of the Marabou mousse on top. Now add another layer of Dulce de Leche and put the second banana cake layer on top of it. Finish off with with the rest of the mousse and let it set for at least 6-8 hours (over night would be best). Just before serving you finish off with the rest of the Dulce de Leche, caramel popcorn and some melted dark chocolate. Then serve.
Kom den første banankage bund i en springform uden bunden, som er placeret på det fad du ønsker at servere lagkagen på. Kom så 1/3 af Dulce de Leche karamellen ovenpå den og herefter halvdelen af Marabou moussen. Kom nu endnu et lag Dulce de Leche karamel ovenpå og læg så den sidste banankage bund ovenpå dette. Herefter tilføjes det sidste Marabou mousse. Kom hernæst kagen på køl i mindst 6-8 timer (gerne overnat). Når kagen skal serveres kommes det sidste Dulce de Leche karamel ovenpå og der toppes med Werther's karamel popcorn. Jeg pyntede også med noget smeltet chokolade, men det kan undlades. Kagen serveres herefter.