I love ice cream. I could eat ice cream all year around and never get sick of it! This strawberry ice cream with strawberry jam swirls is full of flavour and it's actually a healthier version, seeing as it has no cream in it at all. It's, however, still as creamy and yummy as the usual ice cream base with added cream. You definitely need to try this one, if you love strawberry and ice cream! 
Jeg elsker is. Jeg kunne spise is hele året rundt og aldrig blive træt af det! Denne jordbær is med syltetøjs swirls er fyldt med smag og er rent faktisk en sundere version, eftersom den er lavet på mælk og helt uden fløde. Den er dog stadig super cremet og lækker, ligesom den normale version lavet på fløde. Jeg vil helt klart anbefale at prøve denne opskrift! 
RECIPE/
OPSKRIFT
(1 liter): 
– 4 pasteurised egg yolks/
pasteurisede æggeblommer
– 1,5 dl sugar/
sukker
– ½ can condensed milk/
½ dåse kondenseret mælk
– ½ tsp vanilla/
tsk vanille sukker
– 2 tbsp golden syrup/
spsk lys sirup
– 30g
FunCakes zesty strawberry fruit flavour
/
FunCakes intens jordbær
– 3 drops
red food colour
/
dråber
rød frugtfarve
– 500ml low fat milk/
mini mælk

– 3 tbsp strawberry jam/spsk jordbær syltetøj
1. Whisk sugar and egg yolks until a creamy consistensy. // Pisk sukker og æggeblommer sammen indtil en cremet konsistens. 
2. Add condensed milk, vanilla, syrup, zesty strawberry fruit flavour and red food colour. Mix well and then add the milk. Whisk until a thin consistensy. // Tilføj kondenseret mælk, vanille sukker, intens jordbær og rød frugtfarve. Bland godt sammen og tilføj så mælken. Bland igen indtil det bliver en meget tynd blanding. 
3. Pour into ice cream machine and let it churn until done. Should take somewhat between ½-1½ hour, depending on the machine. Mine took 1½ hour until it was done. // Hæld på ismaskinen og lad den køre indtil isen er soft-ice agtig. Det tog 1½ time på min, men det varierer meget i forhold til hvilken maskine man har, så hold øje med den. 
4. Add strawberry jam to a piping bag and pipe jam on the box for ice cream. Add ice cream, then jam, then ice cream and jam again on top and swirl it. // Kom jordbær syltetøj i en tyllepose og tyl syltetøj ud i bunden af den bøtte du vil fryse isen i. Kom så is ovenpå, dernæst syltetøj, så is igen og til sidst syltetøj. Swirl godt med en kniv eller andet. 
5. Freeze for at least 5-7 hours and then serve! // Frys i mindst 5-7 timer og server!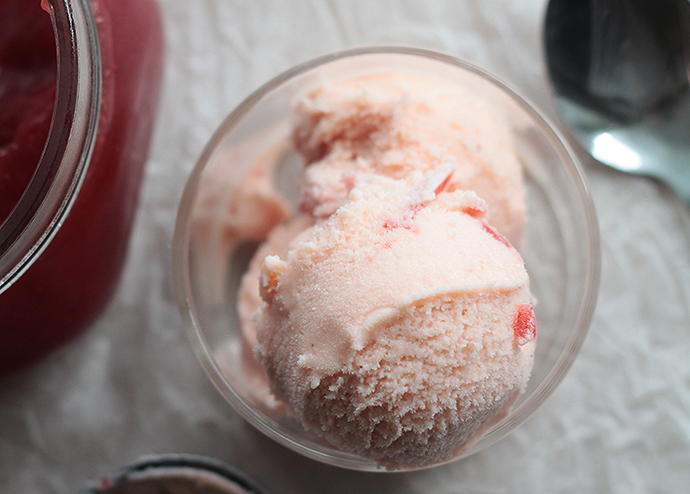 Intens jordbær sirup er sponsoreret af BageBixen.dk