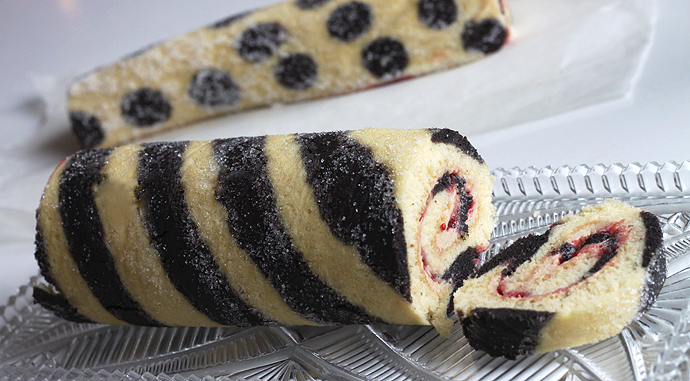 I saw Paul Hollywood making this gorgeous
liquorice swiss roll
on Great British Bakeoff, and just had to try it. It's so pretty and it has such a great, but not too powerful, liquorice taste. I would definitely recommend for you all to try baking it, if you like liquorice – if not, it can easily be made with other flavours and colours as well! I'm definitely gonna try that out! 
Jeg så Paul Hollywod lave denne smukke lakrids roulade på den britiske bagedyst, og så var jeg simpelthen bare nødt til at prøve at lave den. Den har en fantastisk lakridssmag, som ikke er for stærk. Jeg vil helt sikkert sige at det er en kage I bør prøve at lave, hvis I kan lide lakrids – hvis ikke, så kan den nemt laves i andre smagsvarianter  og farver. Det skal jeg helt klart afprøve!
______________________________
RECIPE/OPSKRIFT:
Decorative sponge/Dekorativ dej: 
– 70g soft butter/blødt smør
– 70g icing sugar/flormelis
– 80g sifted flour/sigtet mel
– 2 egg whites/æggehvider
– 80g flour/mel
– 1 tsp liquorice essence/tsk lakrids essens
– ½-1 tsp black food colouring/tsk sort farve
Sponge/Dej:
– 3 eggs/æg
– 75g sugar/sukker
– 75g self-raising flour (Or ½ tsp baking powder mixed with flour)/selvhævende mel (eller ½ tsk bagepulver blandet med mel)
Filling/Fyld:
– 75g soft butter/blødt smør
– 225g icing sugar/flormelis
– 1 tbsp milk/spsk mælk
– ½ tsp liquorice essence/tsk lakrids essens
– 200g raspberry jam/hindbær syltetøj
If you want to see the preperation, the episode of Masterclass can be watched HERE // Hvis du gerne vil se hvordan Paul Hollywood laver denne smukke roulade, så kan det ses lige HER. 
1. Preheat the oven to 200C (180C fan)/400F/Gas 6. Grease and line a Swiss roll tin with baking parchment. // Forvarm ovnen til 200 grader. Put bagepapir på en bageplade, cirka 35×40 i diameter. 
2. For the decorative sponge paste, cream the butter and icing sugar together until light and fluffy and then gradually add the egg whites, beating continuously. Fold in the flour then add the liquorice essence and food colouring paste and beat until the mixture is black. Spoon into a piping bag fitted with a plain piping nozzle and pipe six diagonal lines across the tin. Refrigerate the tin while you make the plain cake batter. // Til den dekorative dej, skal smøren og flormelisen piskes indtil den bliver let og "fluffy". Tilføj dernæst æggehvide lidt efter lidt. Fold så melen i og tilføj lakrids essens og sort farve og rør rundt indtil massen er sort. Put det i en sprøjtepose som har en rund tyl (Det kan dog også gøres uden tyl) og tyl så diagonale linjer på bagepladen. Sæt på køl imens du laver den næste kagedej. 
3. For the sponge, put the eggs and caster sugar into a large bowl and whisk with a hand-held electric mixer until the mixture is light and frothy and leaves a trail when the whisk is removed. Sift the flour over the mixture and carefully fold in using a large metal spoon or rubber spatula. // Til den lyse kagedel, skal æg og sukker blandes sammen og piskes med en el-mikser indtil massen er let og skummende. Si dernæst melen i og vend det let rundt med en dejskraber, så dejen forbliver luftig. 
4. Gently pour the mixture into the tin, giving the tin a little shake so the mixture finds its own level; gently push the mixture into the corners if necessary. Bake for 10-12 minutes, or until the sponge is golden-brown and starting to shrink away from the sides of the tin. // Hæld den lyse dej over de sorte diagonale striber og giv formen et lille ryst, så dejen kommer ud i alle hjørner. Bag i 10-12 minutter, indtil kagebunden er gynden og begynder at skrumpe væk fra kanten af bageformen. 
5. Lay two sheets of parchment paper (cut a little larger than the size of the tin) on a work surface and sprinkle one with caster sugar. As soon as the sponge is cooked, turn it out onto the sheet of sugared paper and carefully peel off the lining paper. Lay the other sheet of paper over the striped top and flip over, so that the black lines are underneath. Set aside to cool. // Læg to stykker bagepapir ved siden af hinanden (Lidt større størrelse end bagepladen er) og drys sukker over den ene af de to stykker. Lige så snart kagen er kommet ud af ovnen, vendes den over på det stykke bagepapir uden sukker. Her pilles bagepapiret fra formen af, så man ser de flotte sorte striber. Dernæst vendes de sorte striber nedad på det stykke bagepapir med sukker. Lad den så køle af. 
6. For the filling, beat the butter, icing sugar, milk and liquorice essence in a bowl until smooth. // Til fyldet, skal smøret først piskes blødt og dernæst tilføjes flormelis lidt efter lidt. Tilføj dernæst mælk og lakridsessens indtil det er en let og "fluffy" smørcreme. Jeg tilføjede også lidt citronsaft til at fremhæve smagen af lakrids.
7. Once cooled, discard the sugared paper, trim the edges of the sponge with a sharp knife and score a line across the sponge 2cm/1in in from one of the short edges. Spread an even layer of the buttercream over the sponge. // Når kagen er kølet af, smøres der et godt lag smørcreme på, og ovenpå dette smøres syltetøjet. 
8. Roll up the Swiss roll firmly starting at the scored end and using the paper to help you. // Skær en lille linje oppe ved toppen hvor du ville rulle ind – Der skal ikke skæres helt igennem kagen, men det gør det nemmere at rulle så der kommer en flot runding i midten af kagen. Hernæst rulles rouladen. Lad den stå lidt, før den er klar til servering!!