I haven't been very active lately – and this is why. I moved away from home, in my own flat, for the first time. Originally, I was moving for the education I was going to start in september, but the day I moved, I got a message saying the programme has been shut down from summer 2014, so they won't take in any students – and the nearest university now with a programme I want after the one I originally wanted, is about 1-1½ hour drive away, so guess I'm going to drive a lot when I start school. I hope I'll get to figure it all out, because I love this apartment and I have a job in this city as well. Anyway; This is my living space. I have a great sofa bed, which is clever in a 26m2 apartment!
Jeg har ikke været så aktiv herinde på det seneste – og det her er simpelthen grunden. Jeg er flyttet hjemmefra, i min egen lejlighed, for første gang, i en by en times tid fra alt jeg normalt kender til. Det var egentlig meningen at jeg skulle flytte hertil, fordi jeg skulle starte på en bachelor til september, men på dagen hvor jeg flyttede, fik jeg en besked om at den lukkede og at de ikke tager nogle studerende ind i år – så jeg ender nok med at skulle køre til Århus, når jeg starter i skole til september. Jeg håber at jeg finder ud af det hele, for jeg elsker virkelig den her lejlighed (og jeg synes jeg har udnyttet pladsen godt), og jeg har også et arbejde her i byen. Nå, men det her er min stue/soveværelse. Jeg har en fantastisk sovesofa, hvilket jeg synes er mest smart når man bor i en lejlighed på kun 26 m2!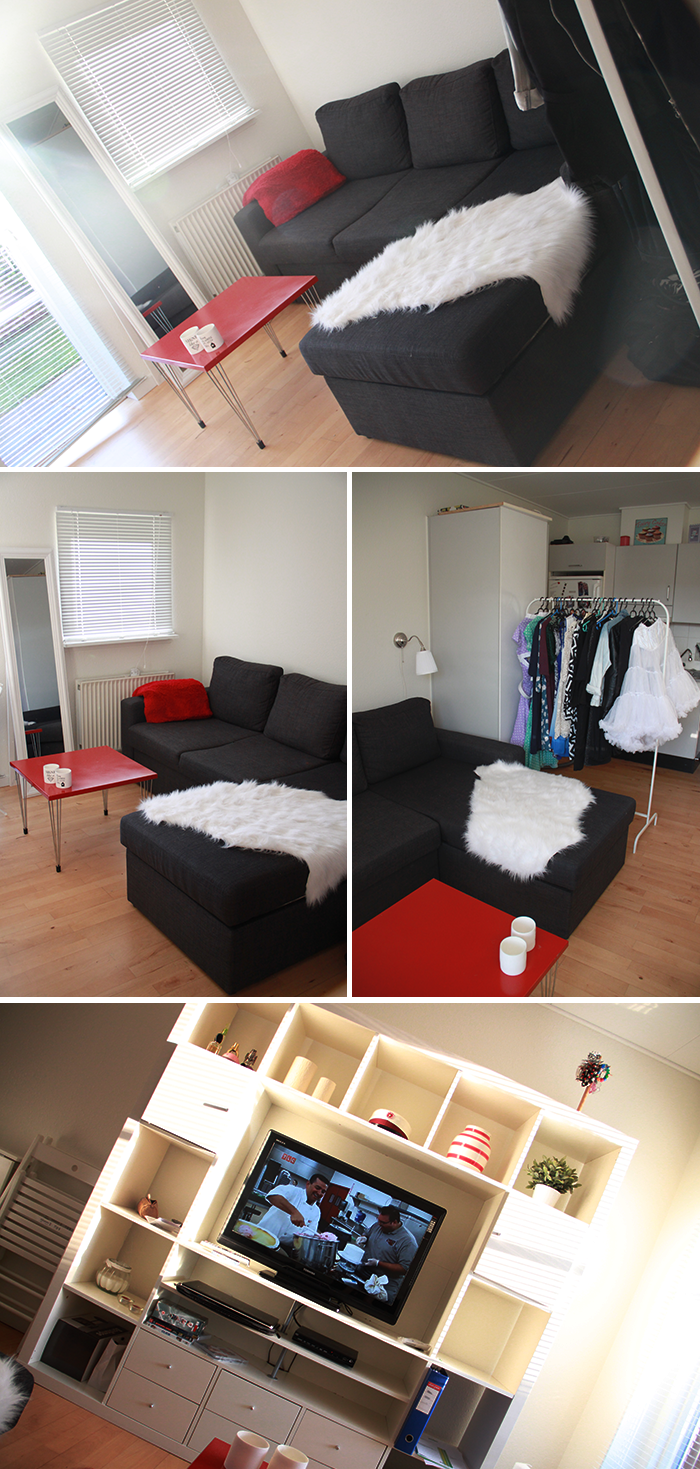 I kind of seperated the room, using my clothing rack, so I have a kitchen area, and a living space. I also have this smart EXPEDIT TV-section from IKEA, which I bought used. I don't have a lot of things on my walls, simply because I don't want to make too many holes in it, if I end up having to move again for studies, sometime soon. Future will show! Let's move on to kitchen area! 
Jeg har delt rummet op, ved hjælp af mit tøjstativ – på den måde har jeg et køkken areal, og en stue/soveværelse. Jeg har også købt denne smarte EXPEDIT tv-reol fra IKEA, brugt. Jeg har ikke så mange ting på væggene, udelukkende fordi jeg ikke vil lave for mange huller, hvis jeg nu ender med at skulle flytte på grund af studierne igen, engang snart. Det må fremtiden jo vise. Nå, nu til køkkenet! 

I have a little kitchenette, which means there is no oven. I do, however, have a mini oven – It's not on any of the pictures though. I found it clever to have a folding table and folding chairs – it gives me more floor space. I decided to decorate my fridge with lots of pictures, and cute magnets (magnet words). 
I am still not done decorating my flat, at all, but you get an idea of how I live and how I use my cute little small space! Besides what's on the pictures, I also have my own entrance, bathroom & a little terrace. 
Jeg har et lille te-køkken, hvilket betyder at der ingen ovn er. Jeg har dog en miniovn, som står ovre ved min dør – Den er bare ikke lige med på nogle af billederne. Jeg synes det var smartest at få mig bord og stole, som kan klappes sammen – det giver mere gulvplads. Desuden så har jeg også valgt at dekorere mit køleskab med massere af dejlige billeder, og køleskabspoesi.
Jeg er stadig ikke færdig med at dekorere, overhovedet, men I får vel en lille idé om hvordan jeg bor og hvordan jeg udnytter de kun 26 m2, Dean (min hund) og jeg, vi bor på! Udover det på billederne, så har jeg også min egen entré, badeværelse & en lille terrasse!