I never even showed you any pictures from Christmas, and I didn't tell you what I got as Christmas present either! Usually, I would take pictures of all of my presents, but I already use some of them, so I can't really take pictures. I will probably show some of them sooner of later anyway. I can show you a picture of our Christmas tree though!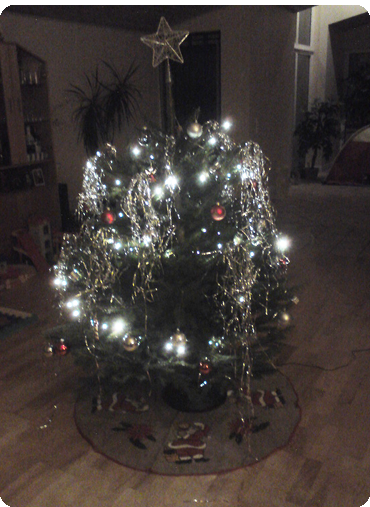 List of presents:
– Big Hello Kitty teddy
– Underwear
– Silver earrings
– Midnight Fantasy by Britney Spears perfume (I got two, so exchanged the other one for money!)
– Gift certificate for H&M
– Gift certificate for Havanna Shoes
– Cupcake stand
– Eyelash set
– Pyrus: Alletiders Eventyr (DVD)
– Supernatural: Season 1 & 2 (DVD)
– 200 DKK (27€)
– 2 sets with forks, spoons, and knives
– Gosh nailpolish: 553 Black Passion
– Bracelet, Morten (my littlebrother) made me
– Boots
– Tights
– Leopard top
I think that's about it. Great gifts, to be honest!
Did you guys have a great Christmas, and what did you get as presents?