Hey guys xx
So now I've actually got the time to tell you about the trip to Copenhagen on saturday. Great xD
So it started friday, were Nana came to my house. We had fun, singing singstar and doing some eyetoy as PS2, LOL! We went to sleep, 'cause we had to get up at 5 next morning. Yes, at 5 on a saturday!
Saturday we got up at 5:10 actually, and then we got ready, doing our hair and make-up, and me packing my stuff. Nana already did that before going to my place. At 7:04 we had to catch a train. Ditte joined us. We sat in the train in 5 hours. It was really nice to have 2 friends with you, when I'm used to being only me in a train, for hours. We came to Copenhagen at 12:19 midday, and we just had to get our luggage to the luggage boxes before going to Lille Vega, which was the venue. We were there about 13 midday. The line already started, so we sat down. Some people were there from 8 at morning. woahh.. There was about 20 people in front of us. As always, I got info about when Trace had to take flights via his twitter (very nice!!!!!), so it was kinda fun sitting there yelling out what the hell he was doing, LOL!!!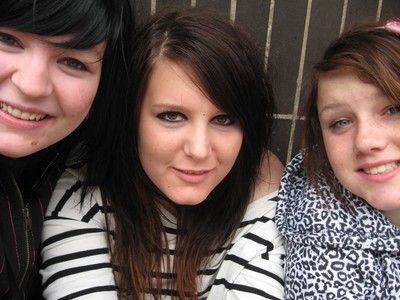 Metro Station came to the venue suddenly, and the bodyguards split the crowd about, and then they came out walking right past me. ooooh dear lord. It was so nice, that I even forgot to take up my camera, lol! Then the whole line stood up, 1½ hour before the concert even started. The show was sold out. 400-500 tickets! Well, suddenly, at 17:30 the guys came OUT again in the middle of the line! They had to go to the hotel to rest, we got told.
We got let in the venue at 18:30, and it was all moshing, pushing, it was so crazy. I never tried that. It was even worse than I tried at a Tokio Hotel concert. Insane, seriously fucking insane. We got in, and I stood about 2/3 line in the middle of the crowd. But when everybody got let in, everybody started pushing, moshing.. The support bands got on, they played for like an hour, and everybody KEPT fucking pushing, I almost couldn't breathe.
At 20:15 Metro Station got on, and at about 10 minutes later, I got pushed so much, that I got nausea, and suddenly I just felt myself getting dizzy, and then it just turned black.. I remember waking up, some girls had a good hold of me, getting hold of Metro Stations bodyguard, Ranel. He was blinding me with a light, so he could se what happened. I came to him, and him and a really nice girl and guy gave me some ice water. Thank you so much, it really meant a lot! I stood at 1 row, in the side, so it was quite fine actually. Besides that, the concert was really great. Oh, btw, it only lasted for 45 minutes though.
We met up with some friends I hadn't seen in like ages, and after that I was just seriously in chock. It was my first time fainting ever, at a metro station concert. so weird. We got outside right at time, when Anthony and Blake came out. They didn't give any autographs though. They went right to the car, driving while Anthony was filming us, LOL!
After about 20 minutes, Mason and Trace came out. I got it all on movie, which you can see in the video I posted under this post. It was so nice, they were so nice! They gave hugs and autographs, even though all the bodyguards and security told them not to. So nice <3
After that, Nana, Ditte and I went to Nana's grandma's appartment, slept there, and got home at 11 the next morning.
Nice weekend <3