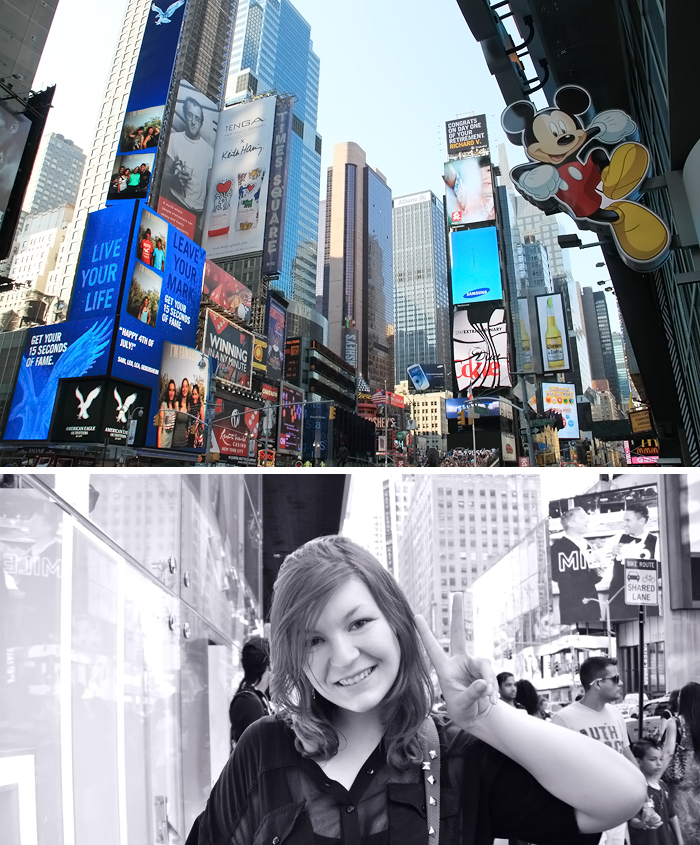 Times Square is a place in New York, that is pretty much known to everybody. Flashing big ads on huge buildings, and lots of people walking around to experience this special place on Earth. We lived just about a 10 minute walk away from Times Square, so it was a place we actually spent a lot of time. I would say we actually went there at least once a day, not on purpose though. Mostly because we had to go there to catch the subway or get out of the subway when going back to the hotel. 
Times Square er et sted i New York, som de fleste kender til. Store blinkende reklamer på store bygninger, og mange mennesker der går rundt for at opleve dette specielle sted på Jorden. Vi boede omkring 10 minutters gang væk fra Times Square, så det var et sted vi brugte ret meget tid. Jeg ville sige at vi faktisk  var der mindst en gang hver dag – godt nok ikke med vilje. Det var mest fordi vi skulle med subway eller ud af subway når vi skulle tilbage til hotellet.
First time we went there, was on 4th of July (as you can see on the last picture). What's amazing about Times Square in the evening is that even though it's dark, it's as light as though it's day, because of all the lighting. Also, Times Square stores Disney, Forever21, Hard Rock Café, MAC Cosmetics, Inglot, etc. so it's definitely worth a visit. 
Første gang vi tog derhen, var det den 4. juli (som I kan se på det sidste billede). Hvad der er ret fantastisk ved Times Square om aftenen er at selvom det er mørkt, så er det stadig ligeså lyst som hvis det var dag, på grund af alt det elektroniske lys. Udover det, så har Times Square også butikker som Disney, Forever21, Hard Rock Café, MAC Cosmetics, Inglot, osv., så det er helt sikkert værd at besøge!