This dip dye denim project is a DIY project I've been wanting to do for quite some time actually. Firstly, I bought a denim jacket secondhand, just for the use of this. The jacket looked like this before I did anything to it:
Dette dip dye denim projekt er et DIY projekt som jeg har villet lave i et stykke tid. Først, så købte jeg en brugt denim jakke, bare til dette projekt. Jakken så sådan her ud før jeg gjorde noget som helst ved den:

I started off by actually buying a Dylon Pre-Dye for the jacket and let it soak in that, but that never really worked. Somehow, the dye always ended up back in the jacket. Don't ask me why. So THAT was money out the window, but at least now I know I am never doing that again! Next, I bought som chlorine bleach and mixed ½ L with 5 L of water, and let the jacket soak in it for like 3-4 hours. This was the result I got after that: 
Jeg startede faktisk med at købe en Dylon Affarver og lod jakken hænge i det, men det virkede aldrig rigtigt. På en eller anden måde, endte jakken altid med at blive blå igen. Spørg mig ikke om hvorfor. Så DET var penge smidt ud af vinduet, men nu ved jeg i det mindste at det skal jeg IKKE købe igen! Derefter købte jeg noget klorin og blandede ½ L af det med 5 L vand, og lod jakken hænge i det for 3-4 timer. Dette var resultatet jeg fik efter det: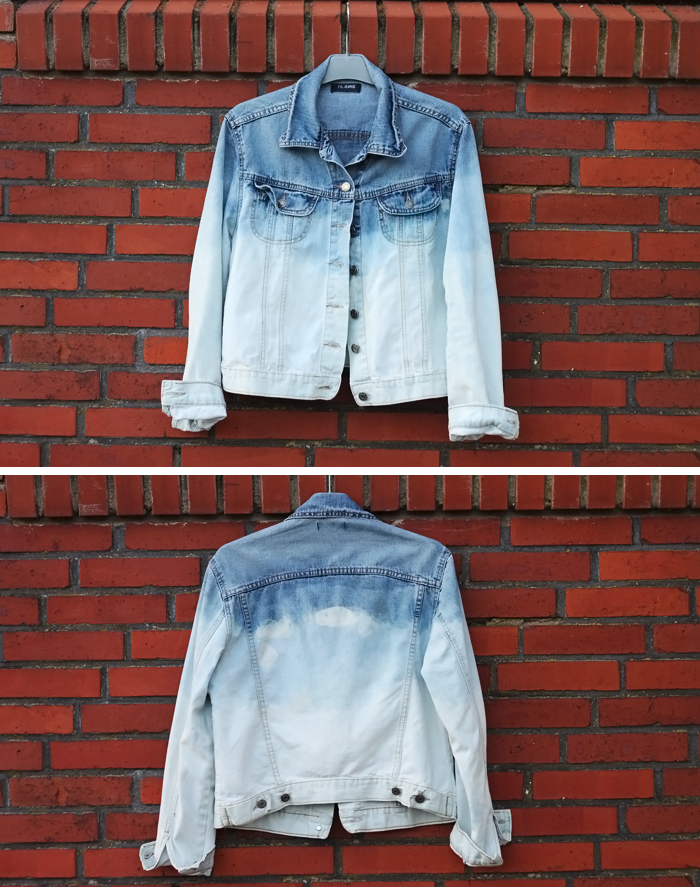 I really like it! I actually did purchase som dark green dye for dip dye, but I don't think I'm gonna use it on this jacket as I wanted to from the beginning. I really like the look of it now – Even when it's FAR from done yet! I'll show you what it'll end up looking like when it's done!
Jeg elsker den! Jeg har rent faktisk købt noget mørkegrønt farve til dip dye, men jeg tror ikke at jeg kommer til at bruge det på denne jakke, som jeg havde tænkt mig fra starten. Jeg kan rigtig godt lide hvordan den ser ud lige nu – Også selvom den er langt fra færdig endnu! Jeg viser jer hvordan den ender med at se ud, når jeg er helt færdig!